Dunkin' Donuts Center Providence
Barstool Sports: Rough N Rowdy

December 9, 2022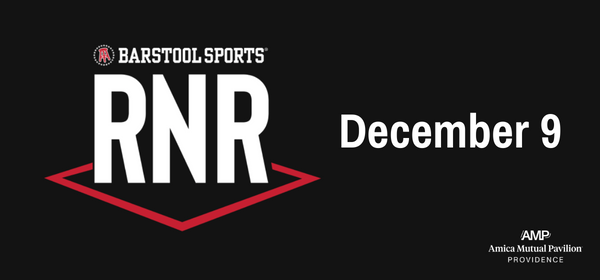 Barstool Sports: Rough N Rowdy
Barstool Sports: Rough N Rowdy
December 9 • 8:00 PM
About the event:
Barstool Sports presents Rough N Rowdy 19, December 9th at the AMP (Amica Mutual Pavilion), previously known as the DUNK (Dunkin Donuts Center).
This exciting event was in Providence at the Rhode Island Convention Center, in November 2019, which sold out! Coming back bigger and better with more seating and better site lines for spectators in the beautiful AMP Amica Mutual Pavilion.
The December 9th event will feature up to twenty exciting fights, including the Barstool RNR undefeated heavyweight champion Bobby "Lights out" Laing, of Braintree, MA. Also featuring the middleweight champions Brendan "The Ninja" Kelley versus Michael "Make it Happen" Brown, super heavyweight champion "The American Redneck" Brad Huntsman versus Justin "Trapzilla" Bair, Providence favorites Vicky D'Errico and 4'-2" Casey "Smidge the Doorman" O'Conner, plus two additional "Dwarf" bouts featuring Dylan "Heartbreaker" Tovey and his sister "Beautiful" Bobbi Jo Tovey and " the Able brothers Zach and Spencer and more !
Several New England rival matchups and up to twenty beautiful Ring Girls!
On the call live from ringside for the "Live" Pay-Per-View broadcast will be the president and founder of Barstool Sports Dave Portnoy and "The Big Kat" Dan Katz.
Tickets will go on-sale this Friday, October 28th at 10 am at the AMP box office and ticketmaster.com
The event has been sanctioned and will be supervised by the ISKA.