Dunkin' Donuts Center Providence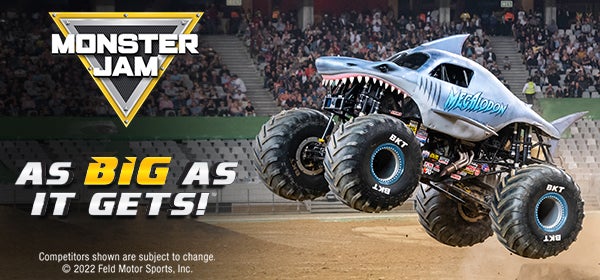 Monster Jam
February 3rd to February 5th
$1,200 FOR A 15 PERSON SUITE
This. Is. Monster Jam™! The most unexpected, unscripted, and unforgettable motorsports experience for families and fans in the world today returns to Providence February 3,4,5 2023.
At Monster Jam®, world champion athletes and their 12,000-pound monster trucks tear up the dirt in wide-open competitions of speed and skill. Monster Jam drivers are trained, world-class male and female athletes who have mastered not only the physical strength and mental stamina needed to compete, but the vital dexterity to control 12,000-pound machines capable of doing backflips, vertical two-wheel skills and racing at speeds up to 70 miles-per-hour to produce jaw-dropping, live motorsports action seen around the world. Monster Jam. As Big As It Gets!™
TO RESERVE YOUR MONSTER JAM SUITE OR FOR MORE INFORMATION CALL 401-680-4713 OR:
SUITE INCLUDES:
EVENT TICKETS & PRIVATE SUITE
PRIVATE LOUNGE AREA WITH TV, WET BAR & MORE
PERSONAL WAIT SERVICE
OPTION TO ADD-ON A VARIETY OF CATERING, MENU & BEVERAGE OPTIONS
---
---
*Single event suite prices subject to change. Single event suite availability subject to change. Single event suite rental includes the price of the tickets and suite rental, food and beverage costs are additional.